GPSMAP 76CSX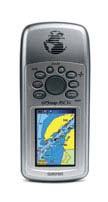 The GPSMAP 76CSx adds a whole new dimension to the mariner-friendly 76-series navigators: a high-sensitivity GPS receiver, barometric altimeter and electronic compass, microSDT card slot, color TFT screen and turn-by-turn routing - features that have made the 76CSx and its counterpart, the GPSMAP 76Cx, a mainstay among serious outdoor enthusiasts.
Navigate the Great Outdoors
Find your way through the wilderness with the GPSMAP 76CSx's high-sensitivity GPS receiver, which acquires satellite signals quickly and tracks your location in challenging conditions, such as heavy tree cover or deep canyons. You can use the built-in electronic compass to view bearing information even while you're standing still, and the barometric altimeter tracks changes in pressure to pinpoint your precise altitude. You can even use the altimeter to plot barometric or ambient pressure over time, which can help you keep an eye on changing weather conditions. The 76CSx's bright, color TFT display makes it easy to distinguish details on the screen in any kind of lighting. And, like the rest of the 76-series, 76CSx is IPX7 waterproof and even floats in water.
Expand Your Memory
Storing data is easier than ever with the 76CSx's removable microSD card. This included blank card stores up to 128 megabytes (MB) of optional maps or other data. The card slot is located inside the waterproof battery compartment, so you don't have to worry about getting it wet. When navigating on the road, the 76CSx provides turn-by-turn directions to your destination. It also accepts optional preloaded microSD cards with MapSource® data for your off-road or marine excursions.
GPSMAP 76CSx: Color navigation and direction for your land and sea adventures
Physical & Performance
| | |
| --- | --- |
| Unit dimensions, WxHxD: | 2.7" x 6.2" x 1.2" (6.9 x 15.7 x 3.0 cm) |
| Display size, WxH: | 1.6" x 2.2" (4.1 x 5.6 cm) |
| Display resolution, WxH: | 160 x 240 pixels |
| Display type: | 256 color transflective TFT |
| Weight: | 7.7 oz (218 g) with batteries |
| Battery: | 2 AA batteries (not included) |
| Battery life: | 18 hours, typical |
| Waterproof: | yes (IPX7) |
| Floats: | yes |
| High-sensitivity receiver: | yes |
| Interface: | serial and USB |
| RoHS version available: | yes |
Maps & Memory
| | |
| --- | --- |
| Basemap: | yes |
| Preloaded street maps: | no |
| Ability to add maps: | yes |
| Built-in memory: | none (cannot load maps to internal memory) |
| Accepts data cards: | 128 microSDT card (included) |
| Waypoints/favorites/locations: | 1000 |
| Routes: | 50 |
| Track log: | 10,000 points, 20 saved tracks |
Features
| | |
| --- | --- |
| Automatic routing (turn by turn routing on roads): | yes |
| Electronic compass: | yes |
| Touchscreen: | yes |
| Barometric altimeter: | yes |
| Geocaching-friendly: | yes |
| Outdoor GPS games: | yes |
| Hunt/fish calendar: | yes |
| Sun and moon information: | yes |
| Tide tables: | yes |
| Area calculation: | yes |
| Custom POIs (ability to add additional points of interest): | yes |
| Unit-to-unit transfer (shares data wirelessly with similar units): | no |
| Picture viewer: | no |
Copyright © 1996-2010 varun. or its subsidiaries