Forerunner 205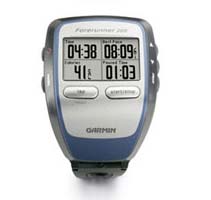 Form meets function with Garmin's high-performance line of personal trainers - the Forerunner 205, 305 and 405. The Forerunner 205 includes a high sensitivity GPS receiver and a new courses feature for optimal performance.
Lock On to Satellite Signals
The Forerunner 205 sports a unique design that wraps the GPS antenna around part of the wrist for a better view of the sky, and its high sensitivity GPS receiver provides improved tracking under trees and near tall buildings
Take It to the Next Level
Forerunner 205's courses feature lets you compete against previous workouts: you can compare your pace over your entire workout to your past performance over the same run. You can also use Forerunner 205 to train for your next duathlon or triathlon with multi-sport workouts, a feature that lets you seamlessly transition between sports without resetting the unit, so you can use it for running, biking and more.
Get the Data You Need
You can customize any of Forerunner 205's three main data screens - up to twelve different data fields give you instant feedback on your workout. And, as with every Forerunner, each workout is stored in memory so you can review and analyze the data and see how you've improved over time.
Track Your Progress
As an added benefit, you can plan, analyze and store data from your workouts through our online community, Garmin ConnectT, or our free Garmin Training Center® software. Conveniently upload your data to Garmin Connect for an in-depth analysis of your workouts, online mapping and route sharing that will take your training to the next level. With Garmin Training Center® software, you can analyze data with interactive graphs that chart your pace, time, distance and heart rate. Overlay your run on a map so you can pinpoint specific areas and see how elevation and other factors affect your performance. Endurance athletes can also use Forerunner with TrainingPeaks.com, an easy-to-use web-based training system designed to help athletes train for any event.
Forerunner 205: You'll like the result
Physical & Performance
| | |
| --- | --- |
| Unit dimensions, WxHxD: | 2.1" x 2.7" x 0.7" (5.33 x 6.86 x 1.78 cm) |
| Display size, WxH: | 1.3" x 0.8" (3.3 x 2.0 cm) |
| Display resolution, WxH: | 160 x 100 pixels |
| Display type: | 4 level gray LCD |
| Weight: | 2.72 oz (77 g) |
| Battery: | rechargeable lithium-ion |
| Battery life: | 10 hours, typical |
| Waterproof: | yes (IPX7) |
| Floats: | no |
| High-sensitivity receiver: | no |
| Interface: | serial and USB |
| RoHS version available: | yes |
Maps & Memory
| | |
| --- | --- |
| Basemap: | no |
| Preloaded street maps: | no |
| Ability to add maps: | no |
| Built-in memory: | 1 MB |
| Accepts data cards: | no |
| Waypoints/favorites/locations: | 100 |
| Routes: | 50 |
| Track log: | 10,000 points, 20 saved tracks |
Features
| | |
| --- | --- |
| Automatic routing (turn by turn routing on roads): | no |
| Electronic compass: | no |
| Touchscreen: | no |
| Barometric altimeter: | yes |
| Geocaching-friendly: | yes |
| Outdoor GPS games: | yes |
| Hunt/fish calendar: | no |
| Sun and moon information: | yes |
| Tide tables: | yes |
| Area calculation: | no |
| Custom POIs (ability to add additional points of interest): | no |
| Unit-to-unit transfer (shares data wirelessly with similar units): | no |
| Picture viewer: | no |
Copyright © 1996-2010 varun. or its subsidiaries