Forerunner 101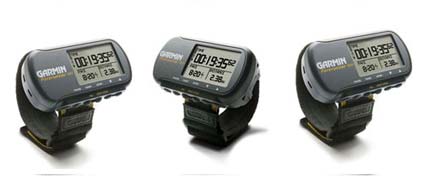 The Forerunner 101 offers athletes and recreational runners and walkers an entry-level personal training device with GPS. It measures speed, distance, pace and calories burned, and it runs on 2 AAA batteries.
Meet Your Virtual Training Partner
Use Forerunner's unique training tool, Virtual Partner®, to help you meet your training goals. Simply enter the distance and time or pace/speed you want to maintain during your workout. Virtual Partner appears on the Forerunner as a tiny runner that "runs" alongside of you, displaying your goal pace compared to your current pace - so you can see at a glance whether you're keeping up or falling behind. To complete your workout and meet your goal, just stay ahead of the Virtual Partner.
Track Your Progress
Forget daily logbook entries. The Forerunner 101 stores up to two years' worth of lap history in memory. You can retrieve lap data for previous workouts by date, week or month, so you can see how much progress you've made in your training.
Find Your Way Home
If you want to work out away from home or in an unfamiliar area, the Forerunner 101 also doubles as a navigator. You can save the location of your home, hotel or other point, see your current position on a map, and follow an electronic breadcrumb trail back to your starting point.
Forerunner 101: You'll like the results
Physical & Performance
| | |
| --- | --- |
| Unit dimensions, WxHxD: | 3.26" x 1.71" x 0.91" (8.28 x 4.35 x 2.3 cm) |
| Display size, WxH: | 1.44" x 0.92" (3.65 x 2.34 cm) |
| Display resolution, WxH: | 100 x 64 pixels |
| Display type: | 4 level gray LCD |
| Weight: | 2.6 oz (74 g) |
| Battery: | 2 AAA batteries (not included) |
| Battery life: | 14-15 hours, typical |
| Waterproof: | yes (IPX7) |
| Floats: | no |
| High-sensitivity receiver: | no |
| Interface: | serial and USB |
| RoHS version available: | yes |
Maps & Memory
| | |
| --- | --- |
| Basemap: | no |
| Preloaded street maps: | no |
| Ability to add maps: | no |
| Built-in memory: | 1 MB |
| Accepts data cards: | no |
| Waypoints/favorites/locations: | 100 |
| Routes: | 100 |
| Track log: | 10,000 points, 20 saved tracks |
Features
| | |
| --- | --- |
| Automatic routing (turn by turn routing on roads): | no |
| Electronic compass: | no |
| Touchscreen: | no |
| Barometric altimeter: | yes |
| Geocaching-friendly: | yes |
| Outdoor GPS games: | yes |
| Hunt/fish calendar: | no |
| Sun and moon information: | yes |
| Tide tables: | yes |
| Area calculation: | no |
| Custom POIs (ability to add additional points of interest): | no |
| Unit-to-unit transfer (shares data wirelessly with similar units): | no |
| Picture viewer: | no |
Copyright © 1996-2010 varun. or its subsidiaries