Edge 205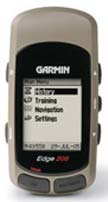 Reach the next level with Edge 205, Garmin GPS personal trainer to help you get the best out of yourself.
Get the information you need
Rugged, lightweight Edge 205 attaches easily to the stem or handlebars of your bike with the included bike mount. Just turn it on, acquire GPS satellites and go. Edge automatically measures your speed, distance, time, calories burned and altitude, and records this data for your review. For even more detailed data, get the Edge 305, which can track your heart rate, cadence, climb and descent.
Other Edge features:
Easy to install, requires no wheel sensors or calibration. Encájalo only in the bike mount and going!
The high sensitivity GPS receiver tracks your position even in wooded areas and canyons, making it extremely reliable for distance and speed data.
Virtual Partner ® lets you compete against a virtual partner in a certain speed and distance.
Check your progress competing against yourself, visualizing in real time the position you occupy in the race and compare your current and past performance in the same race.
Auto Pause ® sets the timer to pause when you go slower or stop and resumes when you turn to speed up movement, so you can focus on the race.
Auto Lap ® automatically starts a new lap each time you pass a particular location or travel a set distance.
Monitor your progress
As a bonus, you can plan, analyze and store data from your workouts using free Garmin Training Center®, To analyze data with interactive graphics showing speed, time, heart rate and slope. Also, if you superimpose the race on a map, you can set specific areas and analyze how they affect your performance the slope and other factors. Or you can load the data from your workouts in MotionBased.com, A web application from Garmin that provides a detailed analysis of the workouts, online mapping and route sharing that will take your training to the next level. Endurance athletes can also use the Edge with TrainingPeaks.com, A Web-based training designed to help athletes train for any event
Edge 205: go further with Edge.
Physical & Performance
| | |
| --- | --- |
| Unit dimensions, WxHxD: | 4.4 x 9.4 x 2.3 cm |
| Display size, WxH: | 3.0 x 3.7 cm |
| Display resolution, WxH: | 128 x 160 pixels |
| Display type: | 4 level gray LCD |
| Weight: | 3.1 oz (88 g) |
| Battery: | rechargeable lithium-ion |
| Battery life: | 12 hours, typical |
| Waterproof: | yes (IPX7) |
| Floats: | no |
| High-sensitivity receiver: | yes |
| Interface: | serial and USB |
| RoHS version available: | yes |
Maps & Memory
| | |
| --- | --- |
| Basemap: | no |
| Preloaded street maps: | no |
| Ability to add maps: | no |
| Built-in memory: | 1 MB |
| Accepts data cards: | no |
| Waypoints/favorites/locations: | 100 |
| Routes: | 50 |
| Track log: | 10,000 points, 200 saved tracks |
Features
| | |
| --- | --- |
| Automatic routing (turn by turn routing on roads): | no |
| Electronic compass: | no |
| Barometric altimeter: | no |
| Geocaching-friendly: | yes |
| Outdoor GPS games: | yes |
| Sun and moon information: | yes |
| Tide tables: | no |
| Area calculation: | yes |
| Custom POIs (ability to add additional points of interest): | no |
| Unit-to-unit transfer (shares data wirelessly with similar units): | no |
| Picture viewer: | no |
Copyright © 1996-2010 varun. or its subsidiaries