eTrex Vista H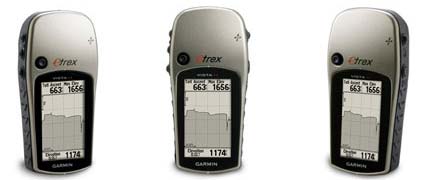 eTrex Vista: Puts the great outdoors in the palm of your hand.
The eTrex Vista combines the popular features of the eTrex Summit with a full basemap of the Americas, the Atlantic or the Pacific, a barometric altimeter, electronic compass and 24 megabytes (MB) of internal memory for extra data storage.
Pinpoint Your Location - and Direction
The Vista's barometric altimeter pinpoints your precise altitude, and its built-in electronic compass provides bearing information even while you're standing still. The Vista can also receive position corrections from the Wide Area Augmentation System (WAAS), which makes Vista's already-accurate positioning data even more reliable. In fact, when you turn on WAAS, you can increase the accuracy of Vista's position reporting to within three meters.
Add More Detail
The Vista's basemap contains lakes, rivers, cities, interstates, national and state highways, railroads and coastlines. Vista also comes preloaded with marine navigation aids. And, with Vista's extra 24 MB of memory, you can add even more map detail with data from Garmin's entire line of MapSource® mapping products
Physical & Performance
| | |
| --- | --- |
| Unit dimensions, WxHxD: | 2.0" x 4.4" x 1.2" (5.1 x 11.2 x 3.0 cm) |
| Display size, WxH: | 1.1" x 2.1" (2.8 x 5.4 cm) |
| Display resolution, WxH: | 160 x 288 pixels |
| Display type: | 4 level gray LCD |
| Weight: | 5.3 oz (150 g) with batteries |
| Battery: | 2 AA batteries (not included) |
| Battery life: | 18 hours |
| Waterproof: | yes (IPX7) |
| Floats: | no |
| High-sensitivity receiver: | no |
| Interface: | USB |
| RoHS version available: | yes |
Maps & Memory
| | |
| --- | --- |
| Basemap: | yes |
| Preloaded street maps: | no |
| Ability to add maps: | yes |
| Built-in memory: | 24 MB |
| Accepts data cards: | no |
| Waypoints/favorites/locations: | 1000 |
| Routes: | 20 |
| Track log: | 10,000 points, 20 saved tracks |
Features
| | |
| --- | --- |
| Automatic routing (turn by turn routing on roads): | no |
| Electronic compass: | tes |
| Touchscreen: | yes |
| Barometric altimeter: | yes |
| Geocaching-friendly: | yes |
| Outdoor GPS games: | yes |
| Hunt/fish calendar: | yes |
| Sun and moon information: | yes |
| Tide tables: | no |
| Area calculation: | yes |
| Custom POIs (ability to add additional points of interest): | no |
| Unit-to-unit transfer (shares data wirelessly with similar units): | no |
| Picture viewer: | no |
Copyright © 1996-2010 varun. or its subsidiaries