Edge 705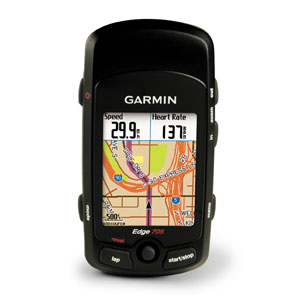 Trainer. Navigator. Edge 705 pushes you to do your best, then shows you the way back. This GPS-enabled cycle computer knows no limits. Get heart rate, cadence, turn-by-turn directions, power data (from ANT+™-enabled third-party power meters) — the works. Even share your data with other Edge 705 buddies after your ride. All wireless with a color display, this is no ordinary cycle computer.
Navigate Your Ride
Lose yourself in the ride without losing your way. Edge 705 comes with a built-in basemap, plus it has a microSD™ card slot for adding map detail and storing workouts, courses and saved rides. Just plug in detailed MapSource® City Navigator® street maps on a preloaded data card and get turn-by-turn directions on a sunlight-readable, color display as you pedal. Add optional topo mapping for your off-road adventures. Edge snaps easily into the included bike mount to guide you to your destination.
Get the Data You Need
Available in 3 versions (see versions tab), Edge 705 comes bundled with different accessories to keep you on top of your ride. Edge 705 automatically measures your speed, distance, time, calories burned, altitude, climb and descent, and records this data for your review¹. For extra-precise climb and descent data, Edge also incorporates a barometric altimeter to pinpoint changes in elevation. It features a high-sensitivity receiver that holds a signal under trees and near tall buildings, and comes with a click stick for easy screen navigation.
See Your Power
Edge 705 works with third-party ANT+™-enabled power meters to display your power output in watts as you ride. This valuable data shows you how hard you're working, regardless of conditions affecting your ride, so you can train smarter. Get a competitive advantage by viewing power output along with Edge data all on the same display and storing this information to analyze your workout.
Measure Heart Rate and Cadence
Garmin's innovative ANT+ wireless technology means you get heart rate and speed/cadence data with no strings attached. All versions of Edge 705 include a wireless heart rate monitor to measure your heart rate and track your heart rate zone. Some packages also include a speed/cadence sensor to monitor your pedaling cadence and wheel speed as you ride. You even can use it to train indoors because the sensor attaches to your rear wheel.
Swap Rides Wirelessly
With Edge 705 you can share your courses, workouts and saved rides wirelessly with other Edge 705 users. Now you can prove that 20-mile uphill climb with a 2,000 ft (609.6 m) elevation gain. Better yet, send it to your buddy to ride. Sharing data is easy. Just select "Transfer Data" to send your information to other Edge 705 units within a 9.84 ft (3 m) range.
Share, Store and Analyze
You rode hard and now you want to store and analyze your workout. With a simple connection to your computer, you can join a worldwide network of cyclists and outdoor enthusiasts through Garmin Connect™ — our new, one-stop site for data analysis and sharing. Also upload to optional Garmin Training Center® software for further analysis.
Features:

Heart rate monitor:
yes (some versions)
Bike speed/cadence sensor:
yes (some versions)
Foot pod:
no
Automatic sync (automatically transfers data to your computer):
no
Garmin Connect™ compatible (online community where you analyze, categorize and share data):
yes
Garmin Training Center® software compatible:
yes
Virtual Partner® (train against a digital person):
yes
Courses (compete against previous activities):
yes
Auto Pause® (pauses and resumes timer based on speed):
yes
Auto Lap® (automatically starts a new lap):
yes
Auto Scroll (cycles through data pages during workout):
no
Multi-sport (changes sport mode with a press of a button):
no
Advanced workouts (create custom, goal-oriented workouts):
yes
Simple workouts (input time, distance and calorie goals):
yes
Pace alert (triggers alarm if you vary from preset pace):
yes
Time/distance alert (triggers alarm when you reach goal):
yes
Vibration alert: (choose between alert tones and/or vibration alert):
no
Interval training (set up exercise and rest intervals):
yes
Heart rate-based calorie computation:
no
Customizable screen(s):
yes
Barometric altimeter:
yes
Unit-to-unit transfer (shares data wirelessly with similar units):
yes
Power meter compatible (displays power data from compatible 3rd party ANT+™-enabled power meters):
yes
Temperature (displays and records temperature while you ride):
no
Additional:
Operating temperature: -15°C to +50°C
Sport watch:
no
.
Copyright © 1996-2010 varun. or its subsidiaries