Forerunner 301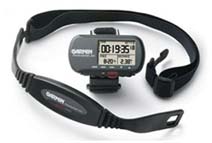 Get results in a heartbeat with the Forerunner 301. This versatile personal trainer adds a digital, coded heart rate monitor to the list of Forerunner features and supports multiple sport profiles for running, biking and other sports - perfect for any athlete who wants to see tangible results.
Get in Your Zone
The Forerunner 301's heart rate monitor continuously tracks and records your heart rate so you can see whether you're training too hard or not hard enough. What's more, Forerunner 301 also displays your current heart rate zone, a range of heart beats per minute that helps you gauge the intensity of your workout and train more effectively. After a few intense runs, Forerunner's AutoLearnT feature calculates your heart rate zones and automatically adjusts them as your fitness level improves.
Cross-Train with Ease
Forerunner 301 has three separate sport modes for running, biking and another activity. Just press and hold the mode button to switch between sports and record your run, ride, hike or other workout. You can also use Forerunner 301 to train for your next duathlon or triathlon with the multi-sport setting. This feature lets you seamlessly transition between sports without resetting the unit, so you can include running, biking and another sport, all in the same workout.
Track Your Progress
As an added benefit, you can plan, analyze and store data from your workouts through our online community, Garmin ConnectT, or our free Garmin Training Center® software. Conveniently upload your data to Garmin Connect for an in-depth analysis of your workouts, online mapping and route sharing that will take your training to the next level. With Garmin Training Center® software, you can analyze data with interactive graphs that chart your pace, time, distance and heart rate. Overlay your run on a map so you can pinpoint specific areas and see how elevation and other factors affect your performance. Endurance athletes can also use Forerunner with TrainingPeaks.com, an easy-to-use web-based training system designed to help athletes train for any event.
Forerunner 301: You'll like the results
Physical & Performance
Maps & Memory
Unit dimensions, WxHxD:
3.26" x 1.71" x 0.7" (8.28 x 4.35 x 1.8 cm)
Display size, WxH:
1.44" x 0.92" (3.65 x 2.34 cm)
Display resolution, WxH:
100 x 64 pixels
Display type:
4 level gray LCD
Weight:
2.75 oz (78 g)
Battery:
rechargeable lithium-ion
Battery life:
15 hours, typical
Waterproof:
yes (IPX7)
Floats:
no
High-sensitivity receiver:
no
Interface:
serial and USB
RoHS version available:
yes
| | |
| --- | --- |
| Basemap: | no |
| Preloaded street maps: | no |
| Ability to add maps: | no |
| Built-in memory: | 1 MB |
| Accepts data cards: | no |
| Waypoints/favorites/locations: | 100 |
| Routes: | 10 |
| Track log: | 10,000 points, 20 saved tracks |
Features
| | |
| --- | --- |
| Automatic routing (turn by turn routing on roads): | no |
| Electronic compass: | no |
| Touchscreen: | no |
| Barometric altimeter: | yes |
| Geocaching-friendly: | yes |
| Outdoor GPS games: | yes |
| Hunt/fish calendar: | yes |
| Sun and moon information: | yes |
| Tide tables: | no |
| Area calculation: | Yes |
| Custom POIs (ability to add additional points of interest): | no |
| Unit-to-unit transfer (shares data wirelessly with similar units): | no |
| Picture viewer: | no |
Copyright © 1996-2010 varun. or its subsidiaries