Edge 500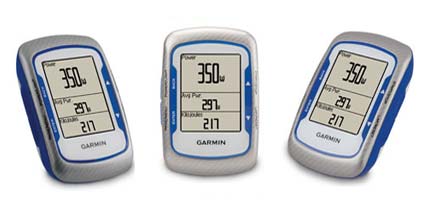 Sharpen your cycling performance with Edge 500, a lightweight GPS-based cycling computer for performance-driven cyclists. Loaded with data, Edge 500 tracks your distance, speed, location and elevation with high sensitivity GPS. Add an ANT + ™ compatible heart rate monitor, speed / cadence sensor or compatible power meter for a finely-tuned analysis of your ride.
Jumpstart Your Training
The Edge 500 attaches easily to the stem or handlebars of your bike with its low-profile bike mount. The Edge attaches easily to the mount with a simple quarter-turn. When you're ready to ride, just power on your Edge, acquire GPS satellites and go. Edge 500 features a high-sensitivity GPS receiver with HotFix ™ satellite prediction to calculate your position faster.
Track Your Heart Rate
When paired with a Garmin heart rate monitor, Edge 500 tracks heart beats per minute and uses your heart rate for advanced computation calorie, so you know how many calories you're burning. Train in A Certain heart-rate zone to improve your fitness level or compare your pace and heart rate to past performance over the same ride.
Analyze Your Ride
Once your ride's done, Edge 500 to connect your computer with the included USB cable to analyze your performance. With a simple click, you can join a worldwide network of cyclists and outdoor enthusiasts through Garmin Connect™, a one-stop site for data analysis and sharing.
Copyright © 1996-2010 varun. or its subsidiaries