Forerunner 201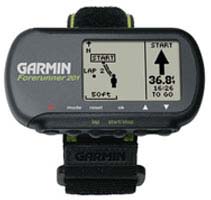 The Forerunner 201 offers athletes a personal training device with GPS that measures speed, distance, pace and calories burned, and runs on a rechargeable lithium-ion battery. After you run, connect your Forerunner 201 to your computer to store and analyze your workout.
Train Hard
The Forerunner 201 is packed with workout-enhancing features that make your training that much easier. You can set alarms that sound when you reach a certain distance or time or when you exceed a certain pace. Start a new lap automatically after a preset distance with Auto Lap®. Using Auto Pause®, the 201 stops the timer automatically when you slow down or stop during your workout.
Meet Your Virtual Training Partner
Use Forerunner's unique training tool, Virtual Partner®, to help you meet your training goals. Simply enter the distance and time or pace/speed you want to maintain during your workout. Virtual Partner appears on the Forerunner as a tiny runner that "runs" alongside of you, displaying your goal pace compared to your current pace - so you can see at a glance whether you're keeping up or falling behind. To complete your workout and meet your goal, just stay ahead of the Virtual Partner.
Track Your Progress
As an added benefit, you can plan, analyze and store data from your workouts through our online community,Garmin ConnectT, or our free Garmin Training Center® software. Conveniently upload your data to Garmin Connect for an in-depth analysis of your workouts, online mapping and route sharing that will take your training to the next level. With Garmin Training Center® software, you can analyze data with interactive graphs that chart your pace, time, distance and heart rate. Overlay your run on a map so you can pinpoint specific areas and see how elevation and other factors affect your performance. Endurance athletes can also use Forerunner with TrainingPeaks.com, an easy-to-use web-based training system designed to help athletes train for any event.
Forerunner 201: You'll like the results
Physical & Performance
| | |
| --- | --- |
| Unit dimensions, WxHxD: | 3.26" x 1.71" x 0.7" (8.28 x 4.35 x 1.8 cm) |
| Display size, WxH: | 1.44" x 0.92" (3.65 x 2.34 cm) |
| Display resolution, WxH: | 100 x 64 pixels |
| Display type: | 4 level gray LCD |
| Weight: | 2.75 oz (78 g) |
| Battery: | rechargeable lithium-ion |
| Battery life: | 15 hours, typical |
| Waterproof: | yes (IPX7) |
| Floats: | no |
| High-sensitivity receiver: | no |
| Interface: | serial and USB |
| RoHS version available: | yes |
Maps & Memory
| | |
| --- | --- |
| Basemap: | no |
| Preloaded street maps: | no |
| Ability to add maps: | no |
| Built-in memory: | 1 MB |
| Accepts data cards: | no |
| Waypoints/favorites/locations: | 100 |
| Routes: | 0 |
| Track log: | 10,000 points, 20 saved tracks |
Features
| | |
| --- | --- |
| Automatic routing (turn by turn routing on roads): | no |
| Electronic compass: | no |
| Touchscreen: | no |
| Barometric altimeter: | yes |
| Geocaching-friendly: | yes |
| Outdoor GPS games: | yes |
| Hunt/fish calendar: | no |
| Sun and moon information: | yes |
| Tide tables: | yes |
| Area calculation: | no |
| Custom POIs (ability to add additional points of interest): | no |
| Unit-to-unit transfer (shares data wirelessly with similar units): | no |
| Picture viewer: | no |
Copyright © 1996-2010 varun. or its subsidiaries